Are you looking for easy and healthy vegan meal plan ideas? These plant based meal prep recipes help with weight loss and sustainability. I've put together an affordable list to make this process as simple and delicious as possible. Even the grocery list is easy to follow. I've used all these vegetarian recipes myself and I love them all. Furthermore if you scroll to the bottom I've enabled a downloadable copy as well.
How do you meal prep for a week of plant-based eating?

1. Make out a list of recipes and ingredients.
2. Make your portions ahead of time.
3. Cook things like grains and legumes in bulk ahead of time
4. Get easy ingredients like oatmeal and chia seeds. 
5. Make simple healthy versatile recipes like overnight oats and chia seed pudding. 
6. Get Tupperware and mason jars for portion storage. 
7. Slice up fruit and vegetables to have as snacks and to add to other recipes, store them in plastic bags or Tupperware with a splash of lemon to keep them fresh. 
It's an easy and organized way to lose weight, save money, and eat healthy! Additionally plant based and vegan diets do not have to be difficult or expensive at all!

The grocery list comes to under $60 too!
Groceries & Cost
Bag of dry black beans – 16oz $1.50
Whole wheat tortillas – 16oz/10ct $3
Sweet potatoes – 2lbs $2
Almond flour (Great Value) – 16oz $5.88
Bananas – 3lbs $2
Oatmeal – 18oz $2.50
Peanut butter – 16oz $3
Dried dates – (Mariani Pitted Dates) 40oz $11
Chia seeds – 12oz $7.50
Cocoa powder – 8oz $2
1 medium squash – $2
Miscellaneous fruit – $5
Miscellaneous vegetables – $3
Avocados – 7 ct $6
Almond milk – 32oz $250
Breakfast, Snack, and Dessert Recipes
No Bake Protein Cookes (8 Cookies)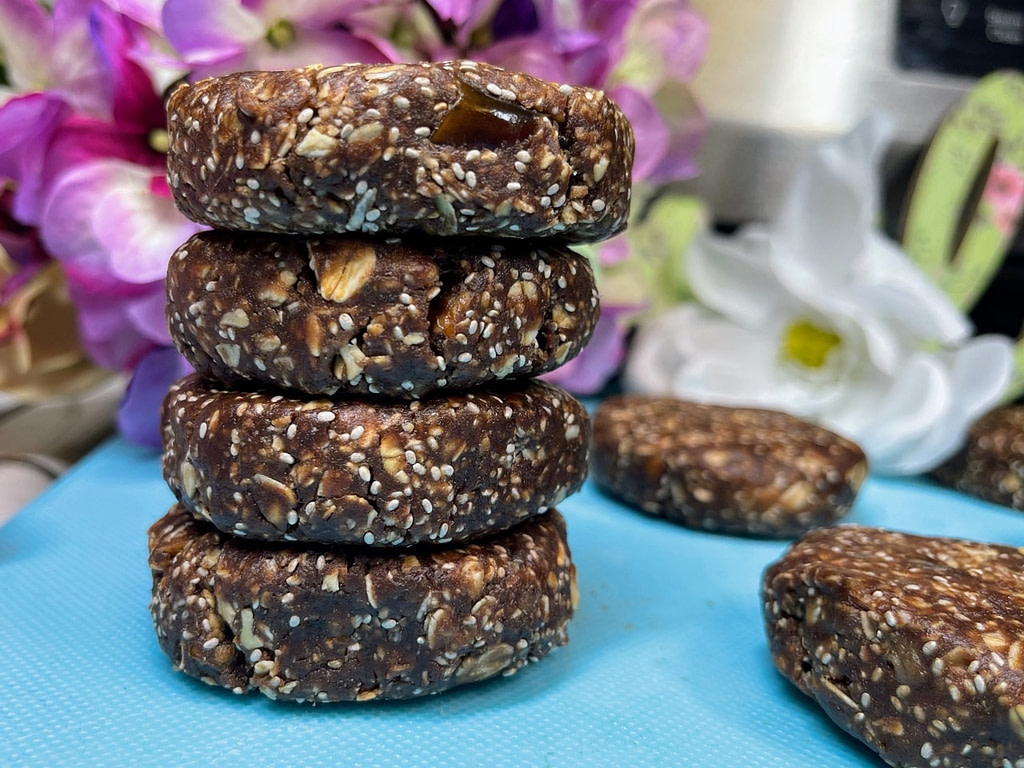 Ingredients:
1 cup dates – pitted
3/4 cup peanut butter (or almond or cashew)
1/2 banana
1.25 cup dry quick oats
1/3 cup chia seeds
3 tbsp cocoa powder
Directions:
Combine dates and banana first in the food processor and blend until dates break apart and blend
Add the rest of the ingredients and blend until thoroughly combined
Move mixture into mixing bowl and mold into 8 equally sized cookie portions
Store in the refrigerator
Nutrition Facts: Servings: 8 Amount per serving Calories 32 Daily Value* Total Fat 16.6g 21%Saturated Fat 3.2g 16% Cholesterol 0mg 0% Sodium 115mg 5% Total Carbohydrate 37.6g 14% Dietary Fiber 9g 32% Total Sugars 17.7g Protein 10.5g Vitamin D 0mcg 0% Calcium 86mg 7% Iron 4mg 23% Potassium 472mg 10
See the video:
Overnight oats with peanut butter and banana (5 portions)
5 cups dry oatmeal
5 cups water or almond milk
5 tbsp peanut butter
Combine oatmeal and liquid, stir, cover, store in refrigerator
Top with 1 tbsp peanut butter and 1 banana
Nutrition facts: Calories 404 % Daily Value*Total Fat 13.4g 17% Saturated Fat 2.6g 13% Cholesterol 0mg 0% Sodium 86mg 4% Total Carbohydrate 58.5g 21% Dietary Fiber 9.2g 33% Total Sugars 2.3gProtein 14.8g Vitamin D 0mcg 0% Calcium 50mg 4% Iron 5mg 28% Potassium 402mg 9
Chia seed pudding (4 servings)
1/2 cup chia seeds
1 cup almond milk
Fruit
Combine, stir, and set in the refrigerator
Smoothies
Miscellaneous fruit
Almond milk
Nutrition Facts Servings: 4 Amount per serving Calories 225 % Daily Value* Total Fat 12.1g 15% Saturated Fat 1.3g 7% Cholesterol 0mg 0% Sodium 37mg 2% Total Carbohydrate 23g 8% Dietary Fiber 13.8g 49% Total Sugars 4.9g Protein 8.1 Vitamin D 0mcg 0% Calcium 244mg 19% Iron 3mg 18% Potassium 261mg 6
Oatmeal cookies (12 cookies)
3 cups oatmeal quick oats
2 tbsp cocoa powder
2 whole bananas ripe
1 cup water
Combine all the ingredients, stir, rest for 1 hour
Preheat oven to 350 degrees F
Grease sheet pan
Set out 12 cookies
Bake for 12 minutes
Nutrition Facts Servings: 12 Amount per serving Calories 97 % Daily Value* Total Fat 1.5g 2% Saturated Fat 0.3g 2% Cholesterol 0mg 0% Sodium 2mg 0% Total Carbohydrate 18.8g 7%Dietary Fiber 2.9g 10% Total Sugars 2.6g Protein 3.1 Vitamin D 0mcg 0% Calcium 13mg 1% Iron 1mg 6% Potassium 167mg 4%
Recipes for lunch and dinner:
Instant pot black beans
(3 burritos and 3 protein bowls)
1 cup dry black beans
3 cups water or vegetable broth
1 tsp vegetable bullion
1 tsp olive oil
Splash of lime juice
Rinse soak them overnight (optional)
Combine beans, liquid, and seasoning in pot
Pressure cook them high for 30 minutes
Steam release for 20 minutes
Nutrition Facts Servings: 6 Amount per serving Calories 136 % Daily Value* Total Fat 1.9g 2%Saturated Fat 0.4g 2% Cholesterol 0mg 0% Sodium 383mg 17% Total Carbohydrate 20.6g 7%Dietary Fiber 4.9g 18% Total Sugars 1g Protein 9.4 Vitamin D 0mcg 0% Calcium 45mg 3% Iron 2mg 10% Potassium 583mg 12%
Instant pot sweet potatoes (3 protein bowls)
Ingredients:
Directions:
Cut them into 1/2 inch chunks
Toss in a bowl with oil and salt
Put them in the instant pot with 3-4 tbsp of water
Pressure cook on high for 5 minutes
Steam release 10 minutes
Nutrition Facts Servings: 2 Amount per serving Calories 218 % Daily Value* Total Fat 7g 9%Saturated Fat 0.9g 5% Cholesterol 0mg 0% Sodium 11mg 0% Total Carbohydrate 37.4g 14% Dietary Fiber 5.3g 19% Total Sugars 0.7g Protein 2 Vitamin D 0mcg 0% Calcium 19mg 1% Iron 1mg 4% Potassium 911mg 19%
Sweet potato noodles (2 servings)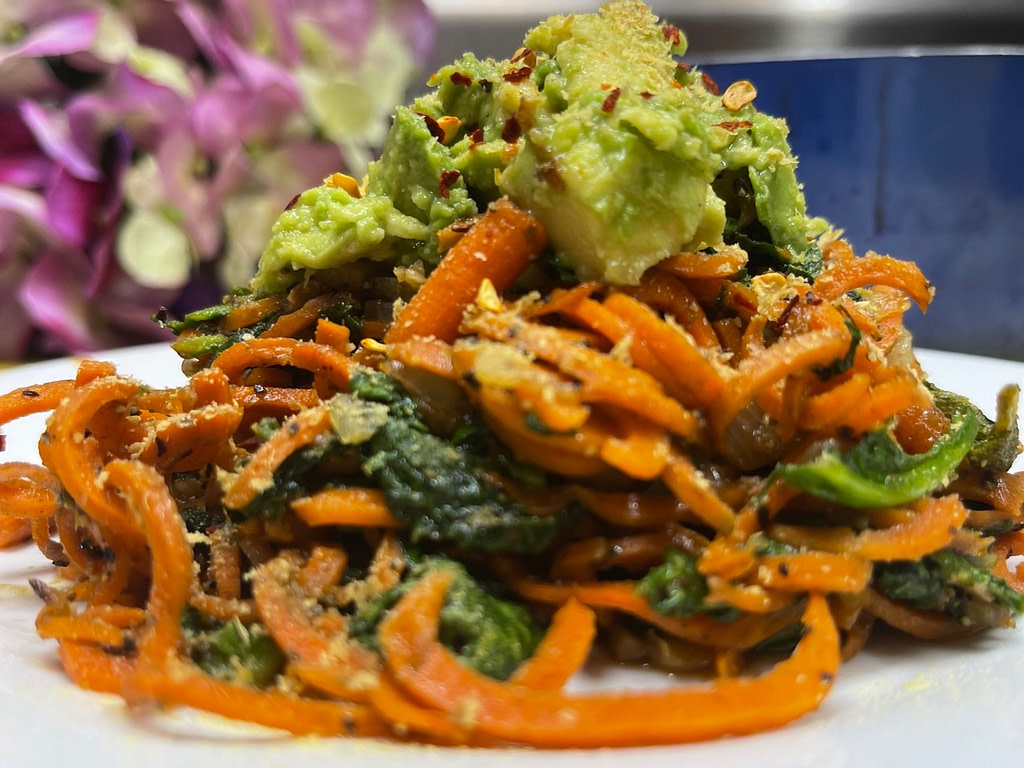 Ingredients:
2 Medium Sweet Potatoes
1 tbsp oil
1/4 tsp salt
1/4 tsp pepper
Directions:
Rinse and peel potatoes and spiralize into noodles
Heat the oil in your skillet and sauté for 3 minutes on medium high
Nutrition Facts Servings: 2 Amount per serving Calories 218 % Daily Value* Total Fat 7g 9%Saturated Fat 0.9g 5% Cholesterol 0mg 0% Sodium 11mg 0% Total Carbohydrate 37.4g 14% Dietary Fiber 5.3g 19% Total Sugars 0.7g Protein 2 Vitamin D 0mcg 0% Calcium 19mg 1% Iron 1mg 4% Potassium 911mg 19%
Squash nugget & avocados burritos (4 burritos)
Ingredients:
2 cups butternut squash cubes
2 tbsp vegetable oil
3/4 cup almond flour
1 tsp salt
1 tsp pepper
1 tsp paprika
1 tsp black garlic powder
Directions
Preheat over to 350 degrees
Toss squash in a bowl with oil, spices, and flour
Spread out nuggets on sheet pan
Bake for 15 minutes
Add avocado and veggies in tortillas (makes 4)
Nutrition Facts Servings: 4 Amount per serving Calories 370 % Daily Value* Total Fat 20g 26%Saturated Fat 3.1g 16% Cholesterol 0mg 0% Sodium 993mg 43% Total Carbohydrate39.9g 15% Dietary Fiber 6.9g 25% Total Sugars 3.1g Protein 9.5 Vitamin D 0mcg 0% Calcium 88mg 7% Iron 5mg 29% Potassium 310mg 7
Breakfast: Oat meal bowl with cocoa powder
Snack: No bake protein cookie
Lunch: Protein Bowl
Snack: Chia seed pudding and a banana
Dinner: Squash Burrito
Dessert: Dried dates and fresh fruit
Day 2
Breakfast: No bake protein cookie with some fruit
Snack: Smoothie
Lunch: Black bean and avocado burrito
Snack: 2 oatmeal cookies
Dinner: Sweet potato noodles with a side of steamed veggies sprinkled with chia seeds
Dessert: Banana smoothie with cocoa powder and almond milk
Simple Weekly Plan Day 3
Breakfast: Spinach and fruit smoothie with chia seeds
Snack: Avocado Toast
Lunch: Protein bowl
Snack: Chia seed pudding with cocoa powder and 1 tbsp peanut butter
Dinner: Squash nuggets and black bean burrito
Dessert: Dried dates
Prep Day 4
Breakfast: Oatmeal bowl with cocoa powder and a banana
Snack: No bake cookie
Lunch: Black bean and avocado burrito
Snack: Fruit smoothie
Dinner: Sweet Potato noodles with steamed veggies and avocado
Dessert: Oatmeal cookies
Day 5
Breakfast: Oatmeal bowl with fruit and chia seeds
Snack: Avocado toast
Lunch: Protein Bowl
Snack: Dried Dates and fresh fruit
Dinner: Squash nugget burrito
Dessert: Chia seed pudding with fresh fruit
Meal Plan Day 6
Breakfast: Chia seed pudding with cocoa powder and banana
Snack: Protein cookie
Lunch: Bean burrito with avocado
Snack: Oatmeal cookie
Dinner: Protein Bowl
Dessert: Fresh fruit
Prep Day 7
Breakfast: Oatmeal bowl with fruit and chia seeds
Snack: Protein Cookie
Lunch: Squash burrito with avocado
Snack: Spinach and fruit smoothie
Dinner: Sweet Potato noodles with side of beans
Dessert: Dried dates
You might also like: 50 Dinner Recipes For Weight Loss